online the latest book of RJ Rushmore.
Viral Art: How the internet has shaped street art and graffiti.


I suggest it to all the art passionates, first because I'm in the book :-), second, but more important, because the research is clear and carefull.
According to the Viral tradition, the book is free under Creative Commons rules.
here: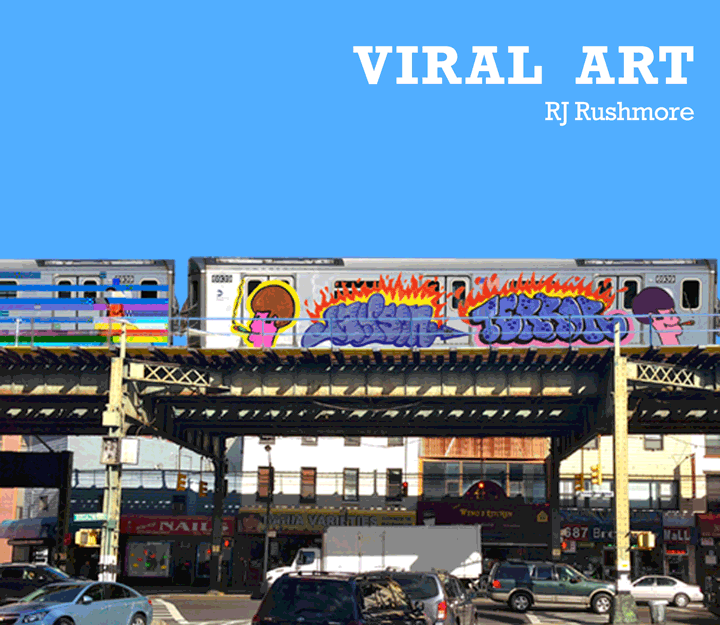 Viral Art
How the internet has shaped street art and graffiti
RJ Rushmore
Abstract:
From flick trading to zines to books to movies to the internet, Viral Art examines how the histories of street art and graffiti have been shaped by communication technologies and why the future of street art and graffiti may lie in digital interventions.
In the book:
The list of people interviewed by RJ Rushmore speaks volumes about the depth he's gone to ascertain how the street has merged with the digital sphere; AVOID pi, Banksy, Blek le Rat, Brian Adam Douglas aka Elbowtoe, Brooklyn Street Art's Jaime Rojo and Steven Harrington, Bruno Levy of Sweatshoppe, C215, Caleb Neelon, Caledonia Curry aka Swoon, Carlo McCormick, Charlie Ahearn, Dabs and Myla, Dan Witz, David Schmidlapp, Dennis McNett, Diego Bergia, Don Leicht, Evan Roth, Patrick McNeil and Patrick Miller of Faile, Faith47, Fred Brathwaite aka Fab 5 Freddy, Gaia, Eric Haze, Ian Strange aka Kid Zoom, James Jessop, Jane Dickson, Jay "J.SON" Edlin, Jeff Greenspan, Jeice2, John Fekner, Jordan Seiler, Kaff-Eine, Katherine Lorimer aka Luna Park, KATSU, Know Hope, Logan Hicks, Marc and Sara Schiller of The Wooster Collective, Martha Cooper, Nug, OX, Pedro Alonzo, Poster Boy, Robyn Hasty aka Imminent Disaster, Ron English, Rub Kandy, Shepard Fairey, Space Invader, Tanley Wong of Arrested Motion, Tod Seelie, Workhorse and PAC of The Underbelly Project, and Yote. Yes, there is even an anecdote attributed to Banksy.